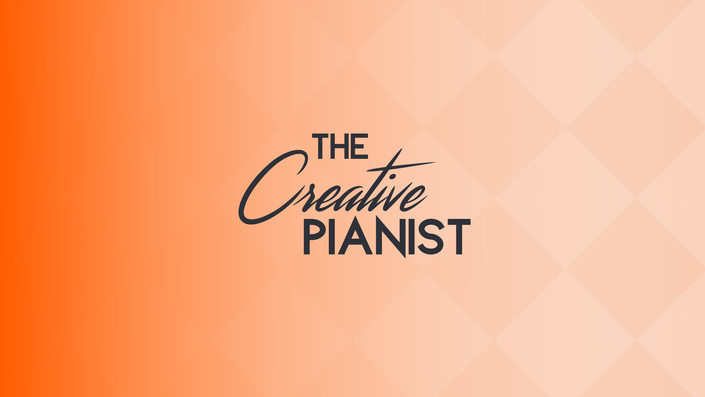 You'll get access to my entire catalogue of:
live-recorded coaching sessions,

workshops,

song tutorials,

pianist advice,

musical discussions

and ALL courses!
Including: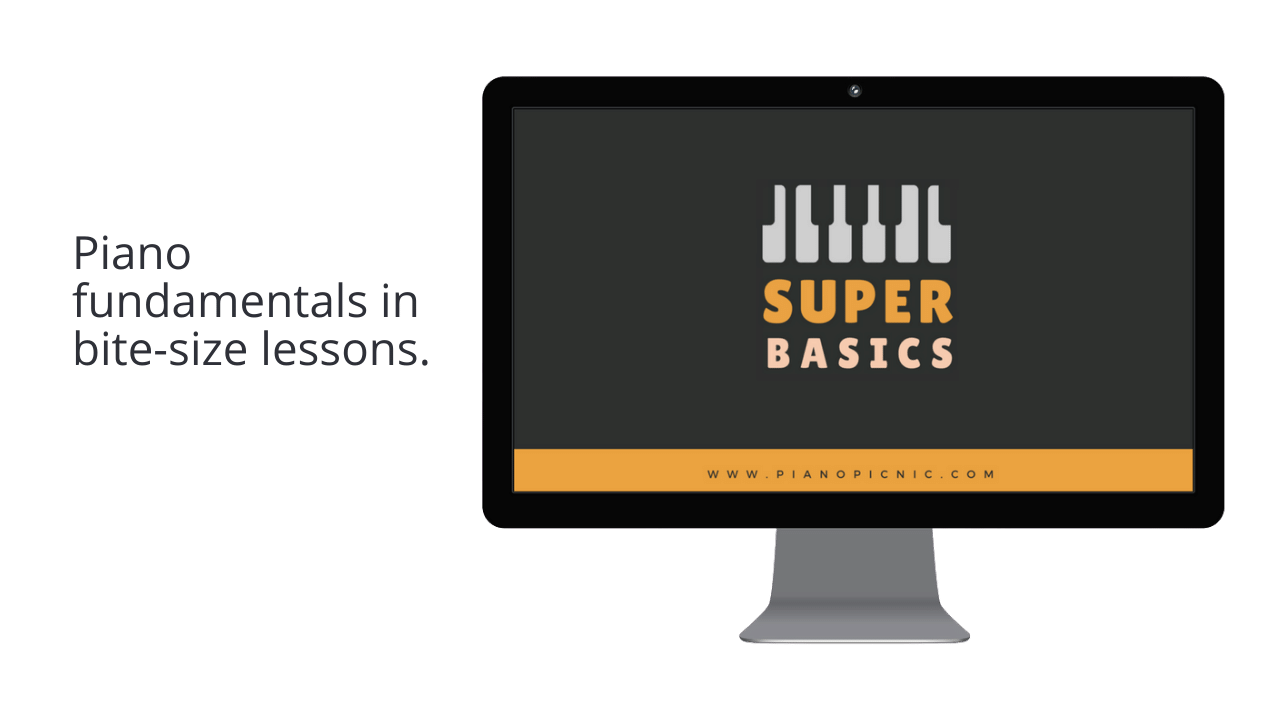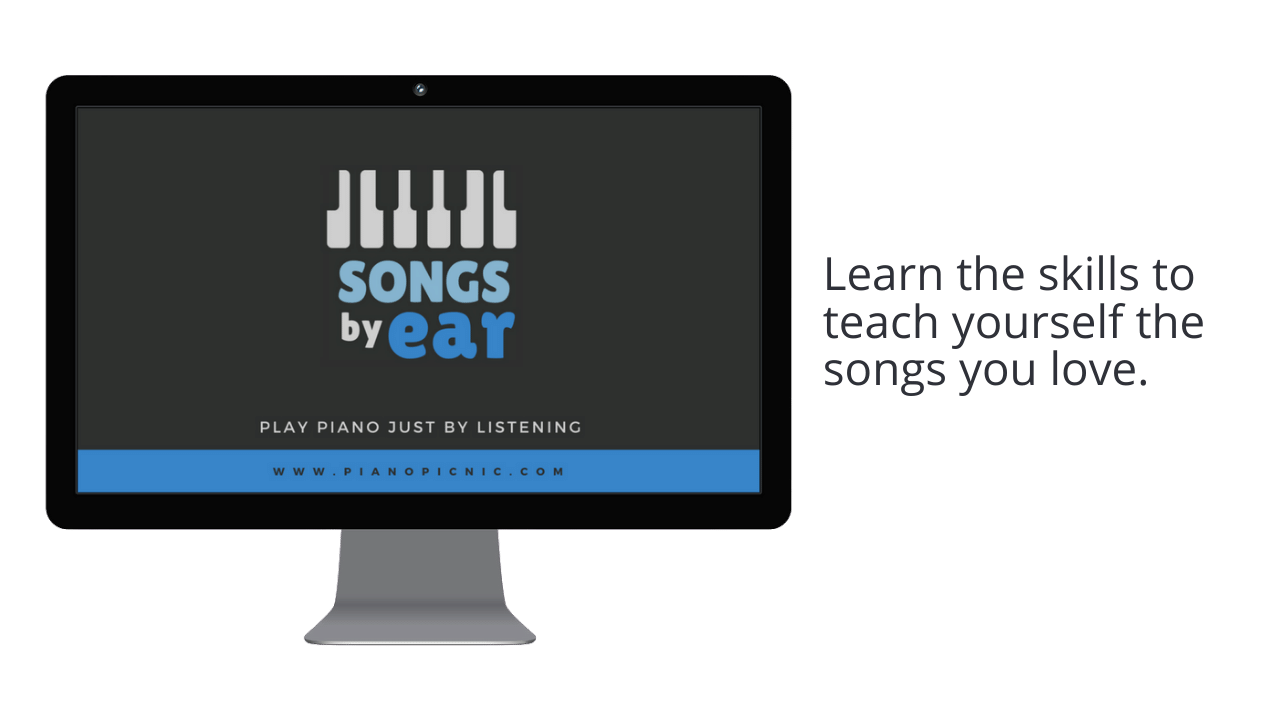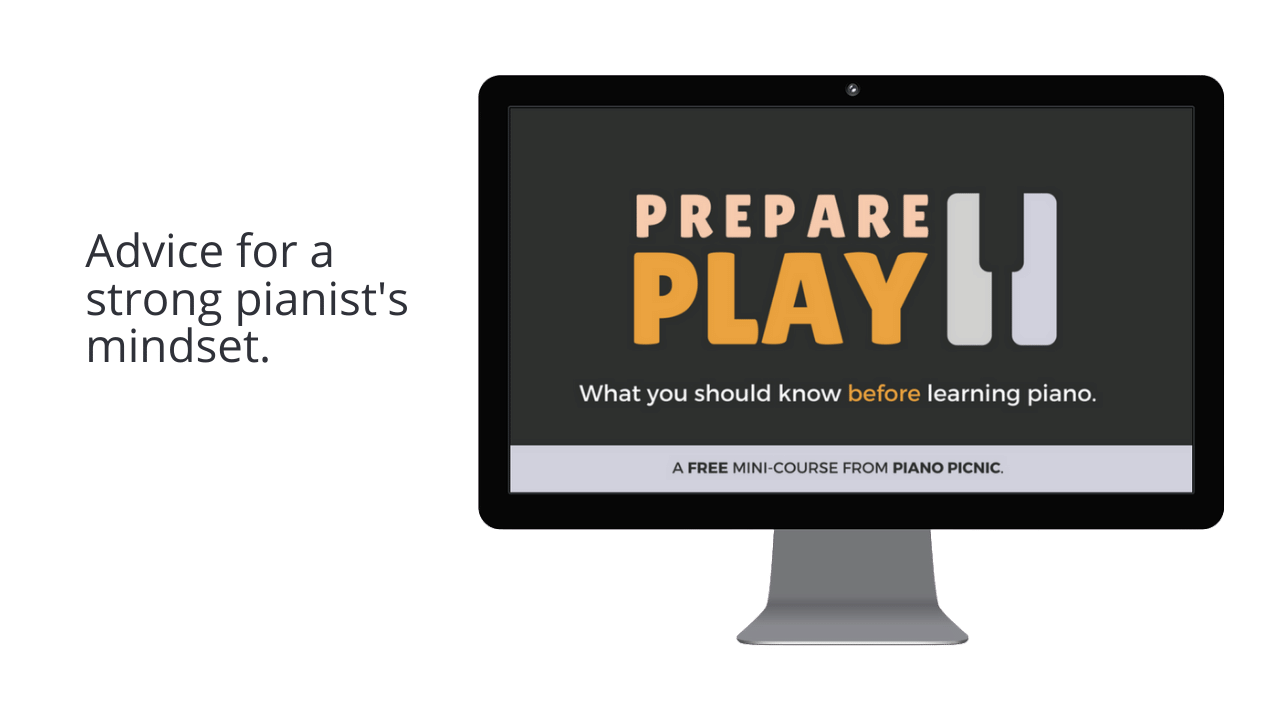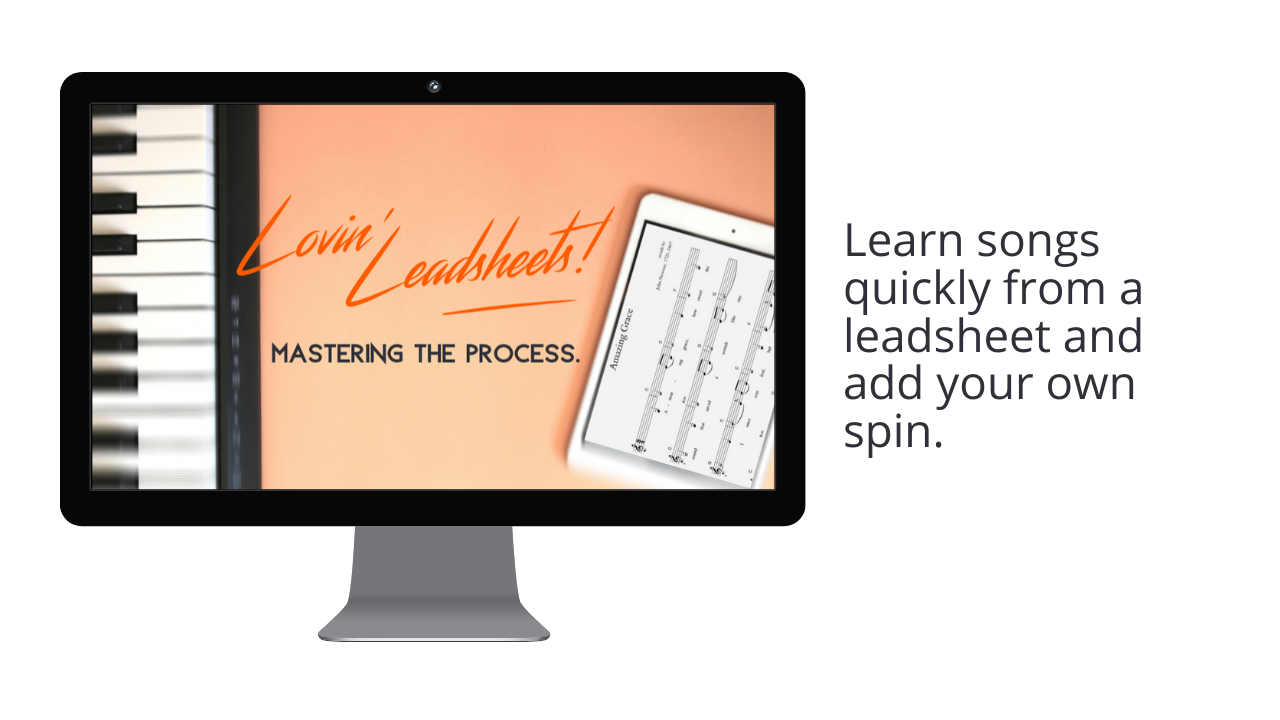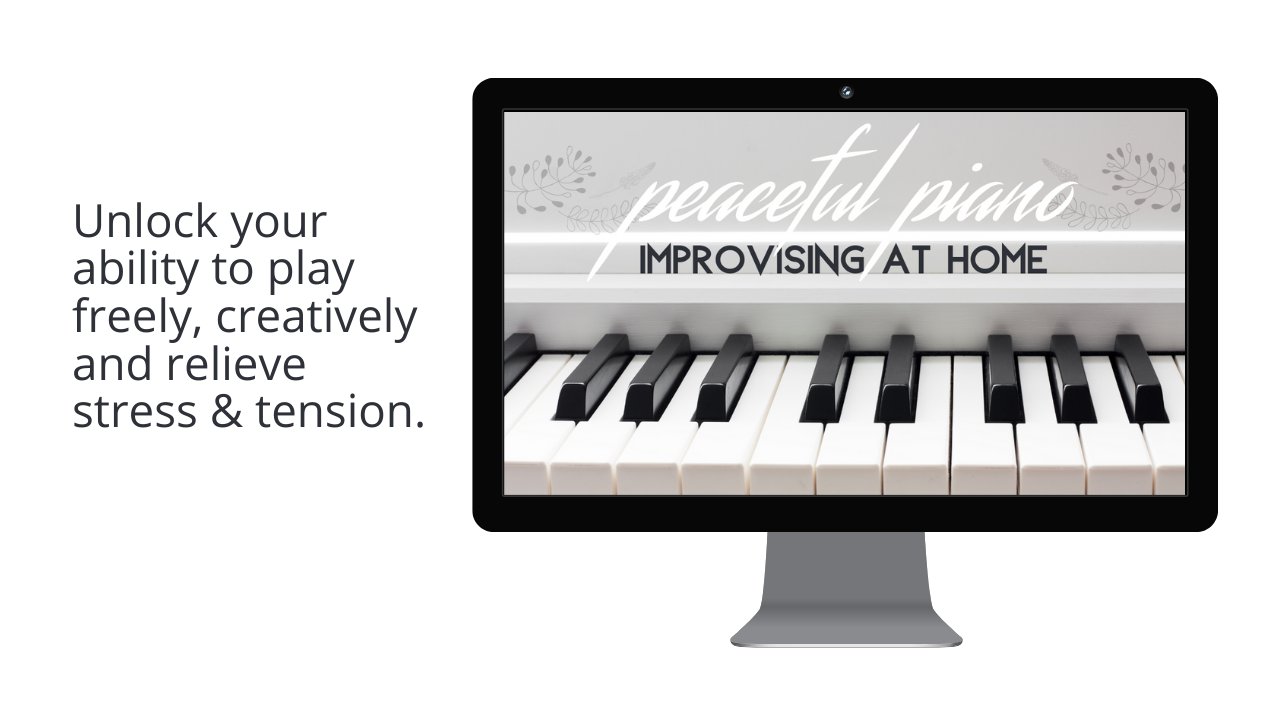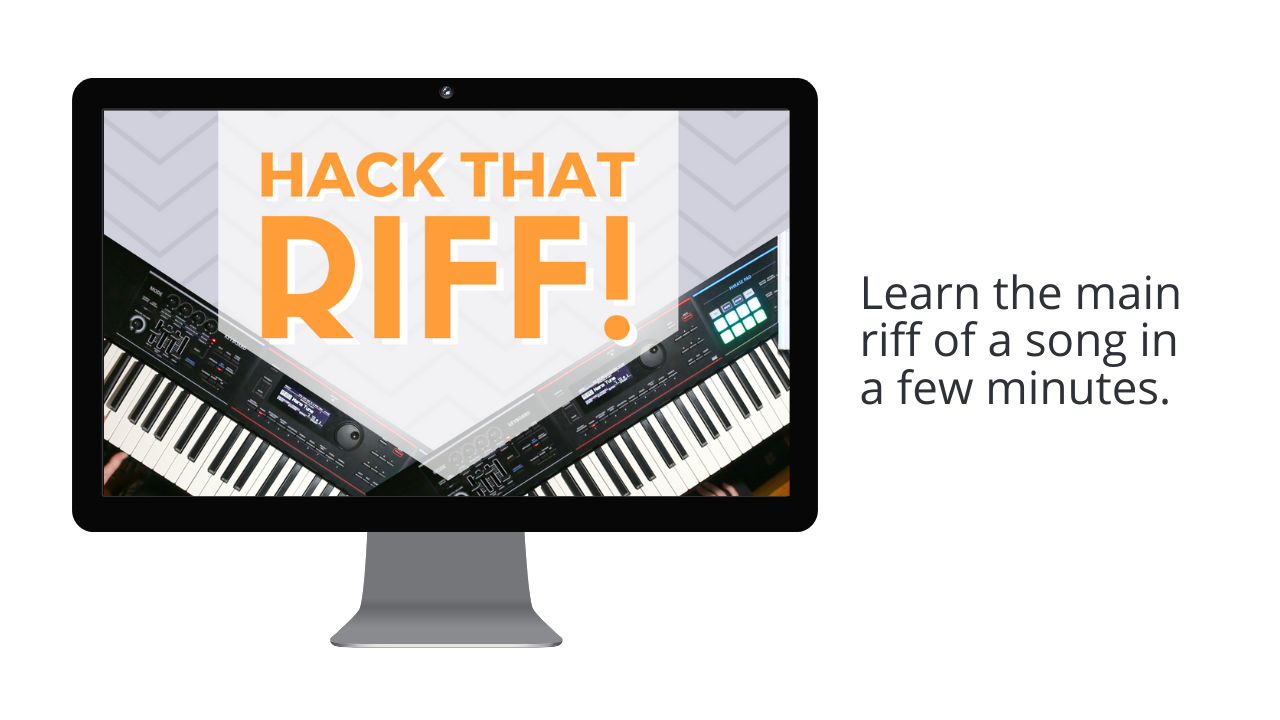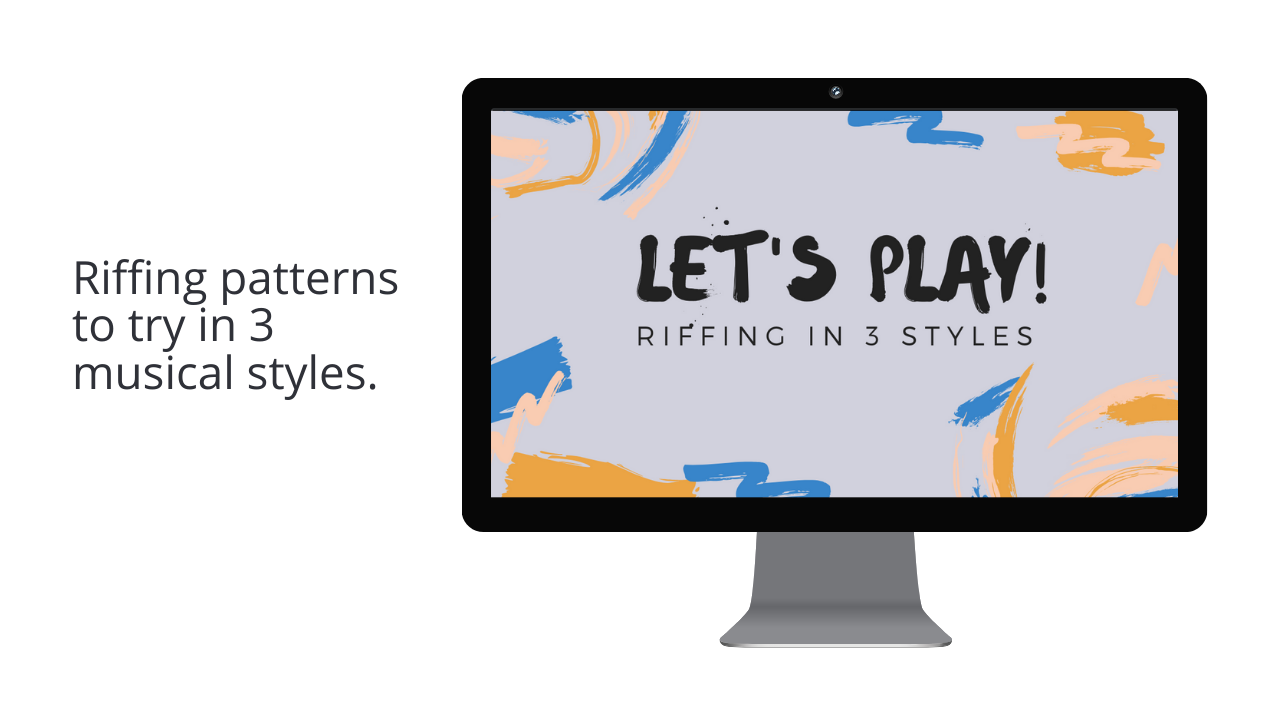 That's a lot of courses!
But you won't be overwhelmed.
We provide 4 support pillars to help you get through the full breadth of resources in the most efficient way!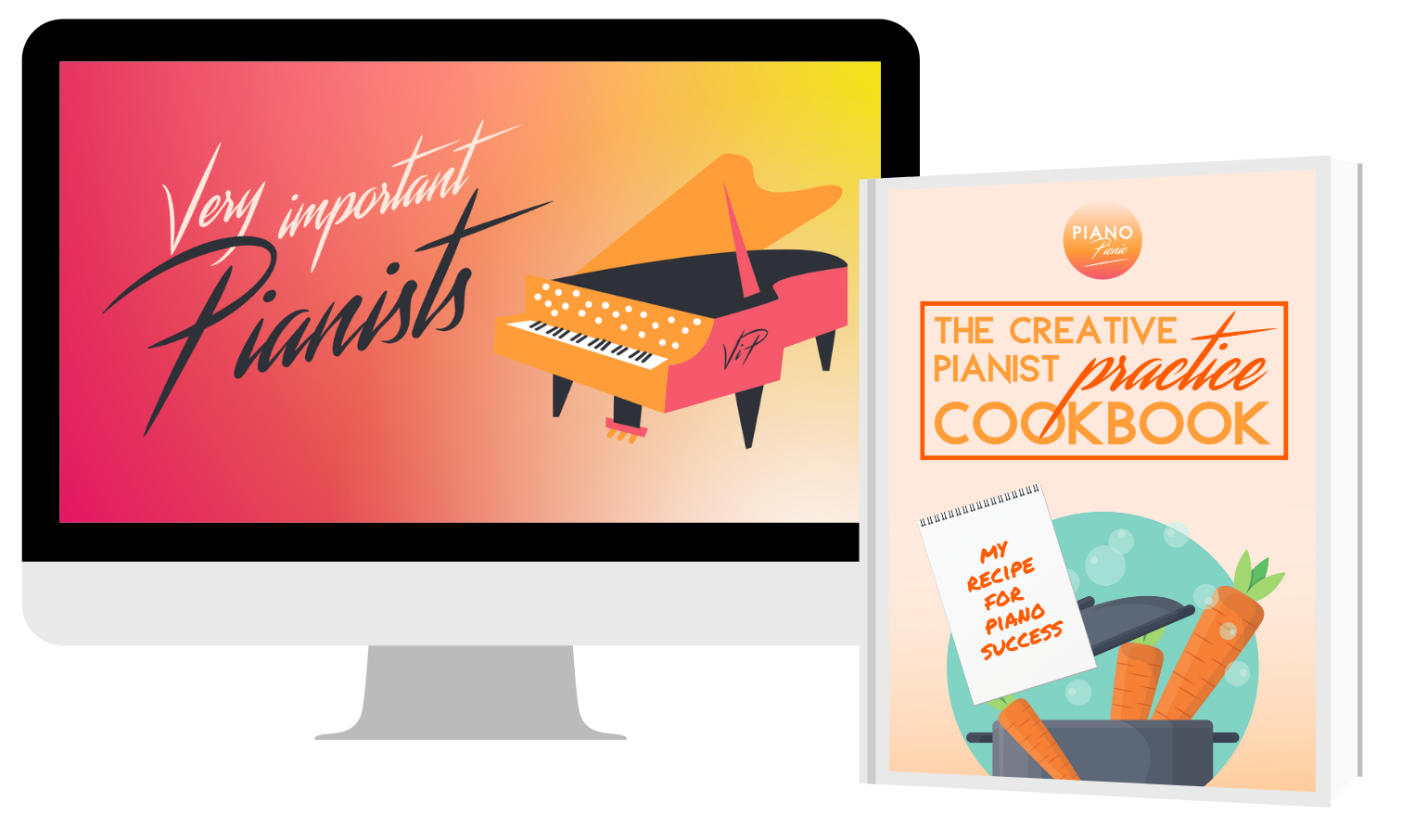 PILLAR 1: THE FULL TOUR
Enjoy a guided tour around the members area, tips for getting the most out of the material as well as highlights of new & useful content to check out! – All delivered to the comfort of your inbox.

---
PILLAR 2: UNLIMITED & PRIORITY SUPPORT
You can email us whenever you are struggling or need a helping hand or helpful hint to get back to learning & playing. Creative Pianist members will receive priority support.

---
PILLAR 3: COMMUNITY ACCESS
You'll receive access to our brand new exclusive members forum where you can ask questions, share your progress, encourage others and participate in the weekly challenges!

---
PILLAR 4: THE CREATIVE PIANIST PRACTICE COOKBOOK
A roadmap –tailored-to-your-level– for optimising your practice, planning your path and working toward your wildest piano dreams!
That's worth over $750 !
But you haven't heard the best part…
You'll also get a 1-hour live group coaching session with me,
every single month!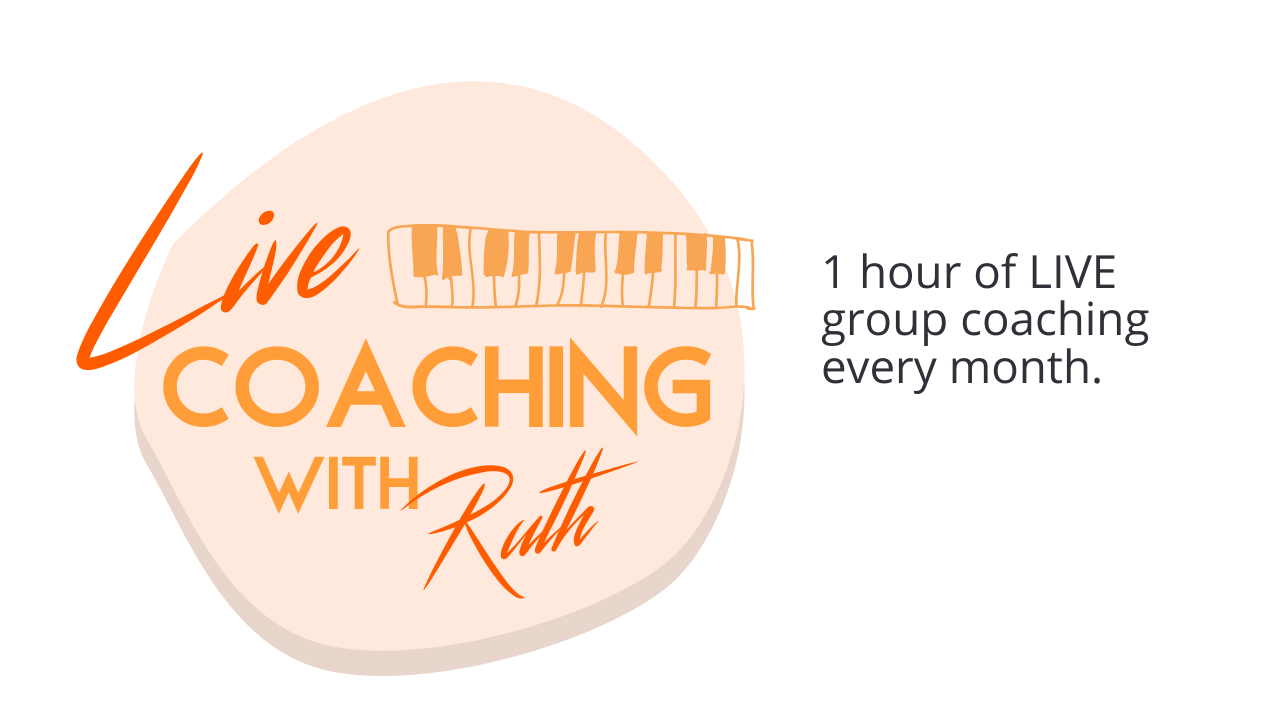 My private lessons normally cost $60 per hour.
So 1 lesson a month, for an entire year - that's $720!!
But because I'm teaching many students at once as a group, the bill is split between you and I can teach you the skills of a creative pianist for a fraction of the price.
PLUS you'll also gain access to THE VAULT of all previous live coachings with topics including:


Basic Technique & Drills!

We Love Chords!

Chord Progressions!

Chording & Comping!

Playing & Singing!

How to achieve piano success this year!
You'll also get access to every new course that I release... no extra charge!
That's a minimum of 2 new courses a year -
that you don't have to pay extra for!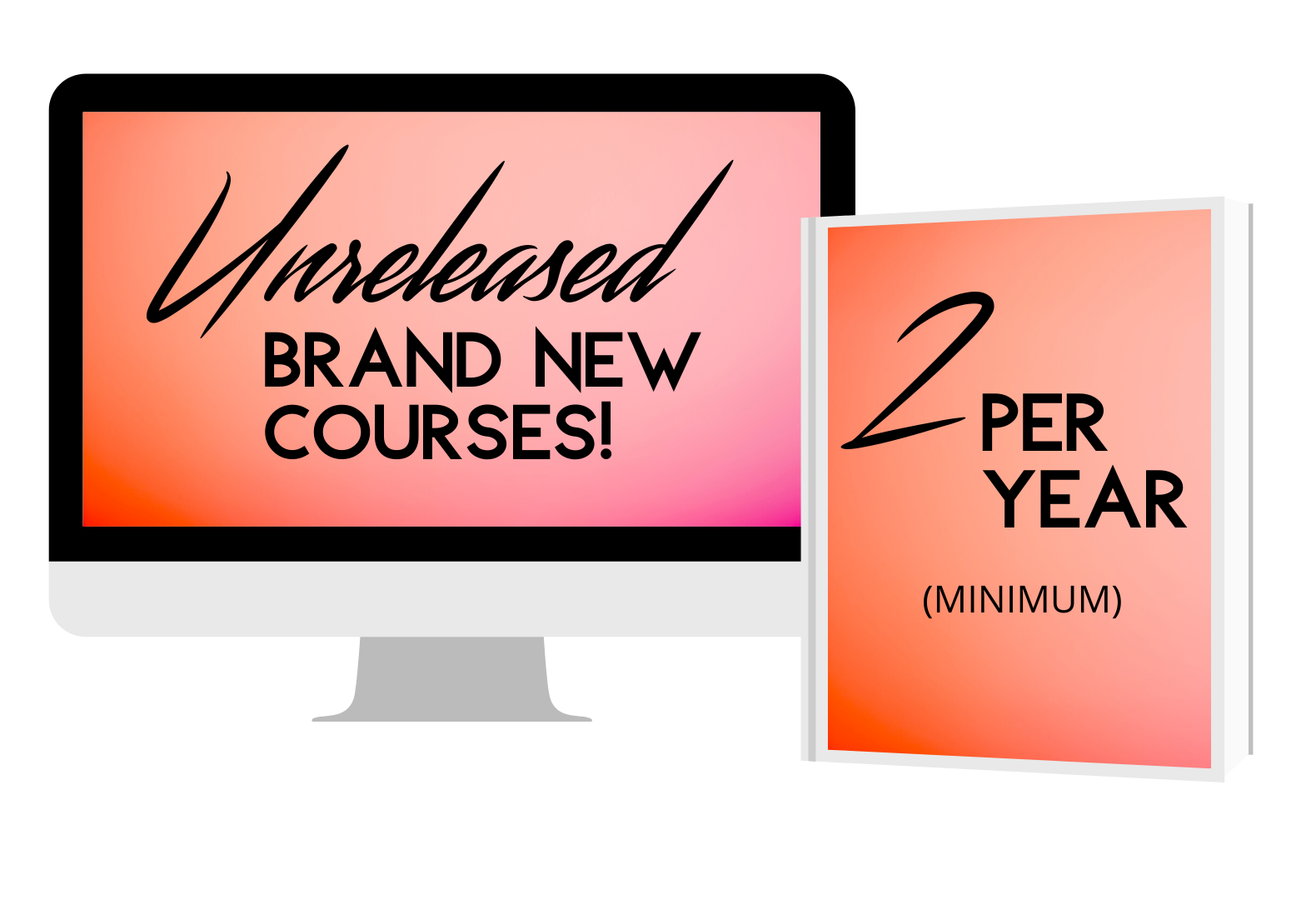 Over a 1 year subscription, that's a combined value of over $1,650!
The value in this membership is worth $137 per month –
but I'm inviting you to enjoy an 80% discount.
Pay just $27 per month when you sign up today.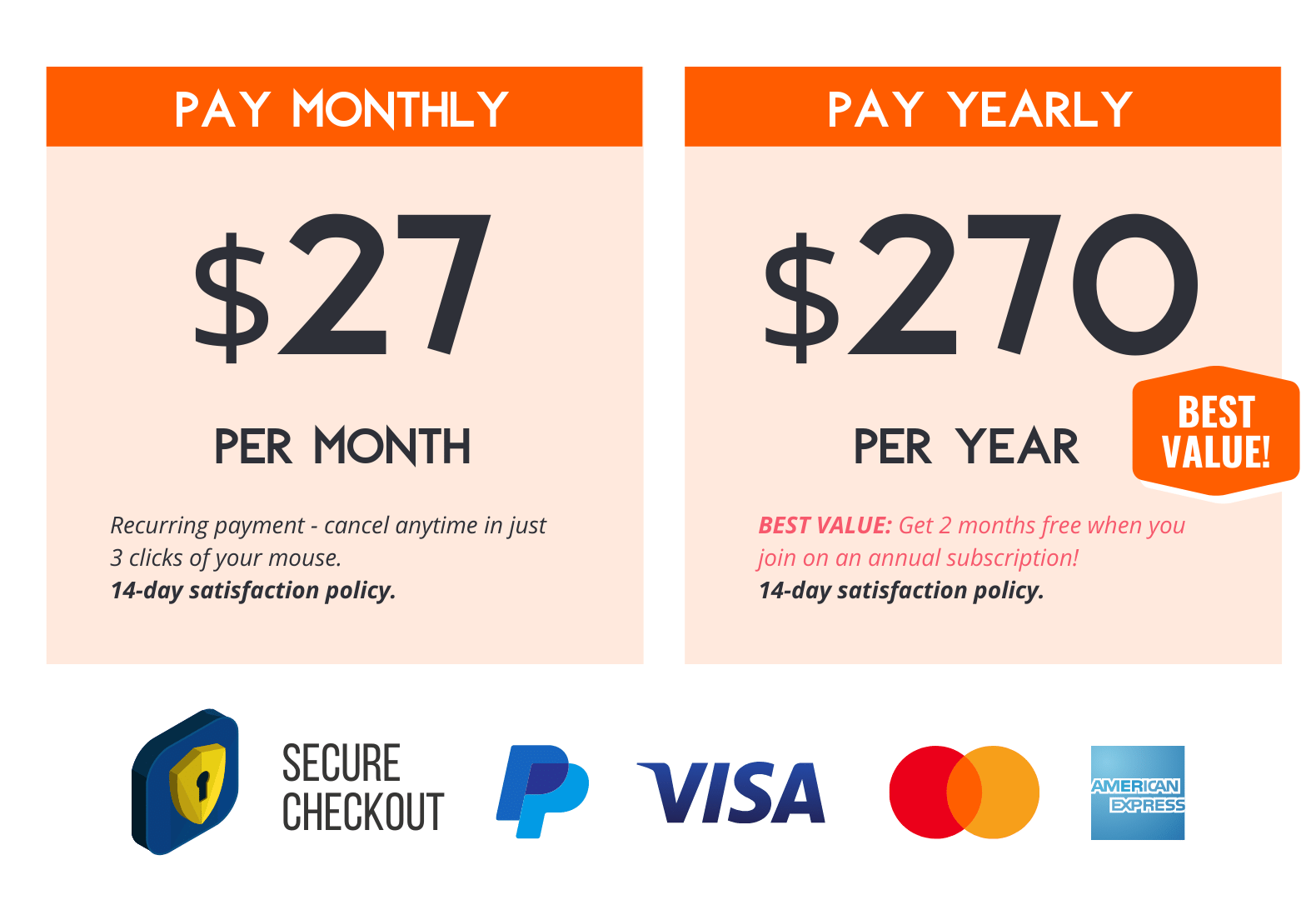 Read our 14-day satisfaction policy in our Terms of Use.
As soon as you enter the membership you'll be guided through the material step-by-step...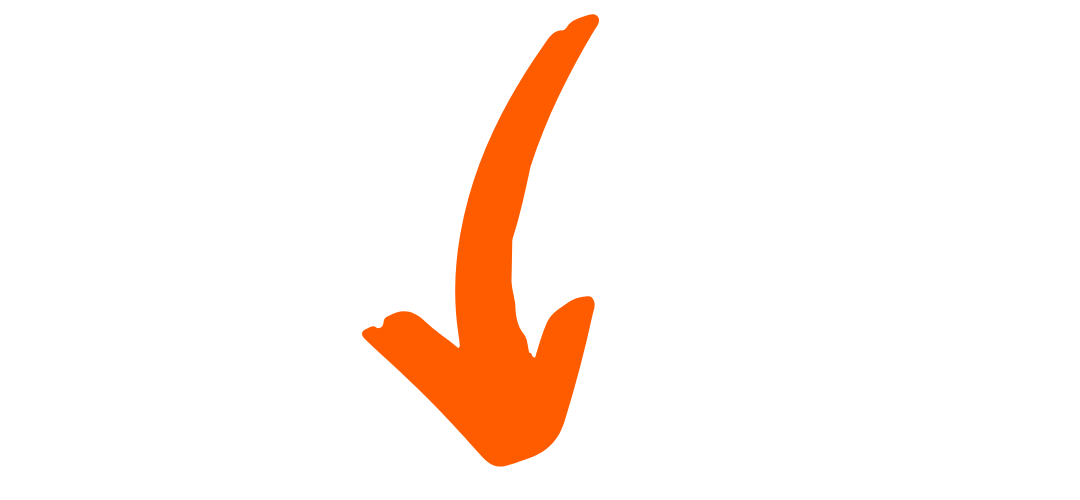 You'll get instant access to all of the courses: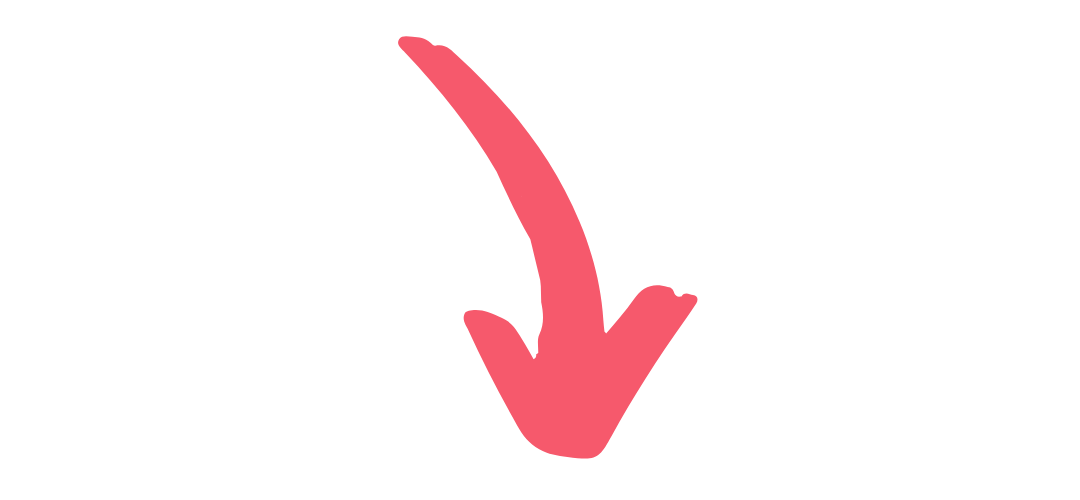 Courses Included with Purchase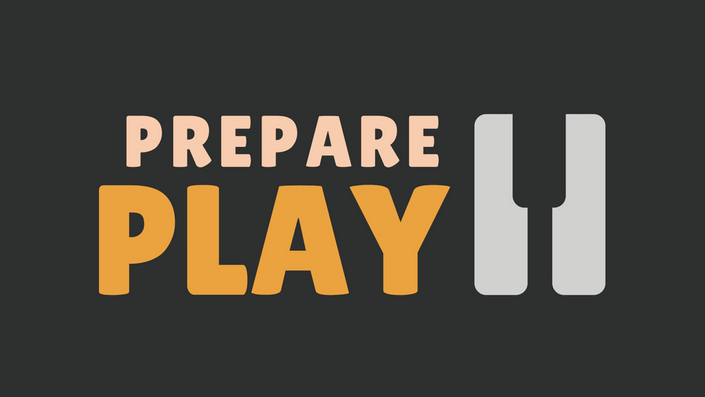 Prepare To Play
Want to learn to play piano? Before committing to lessons, make sure you know what to expect.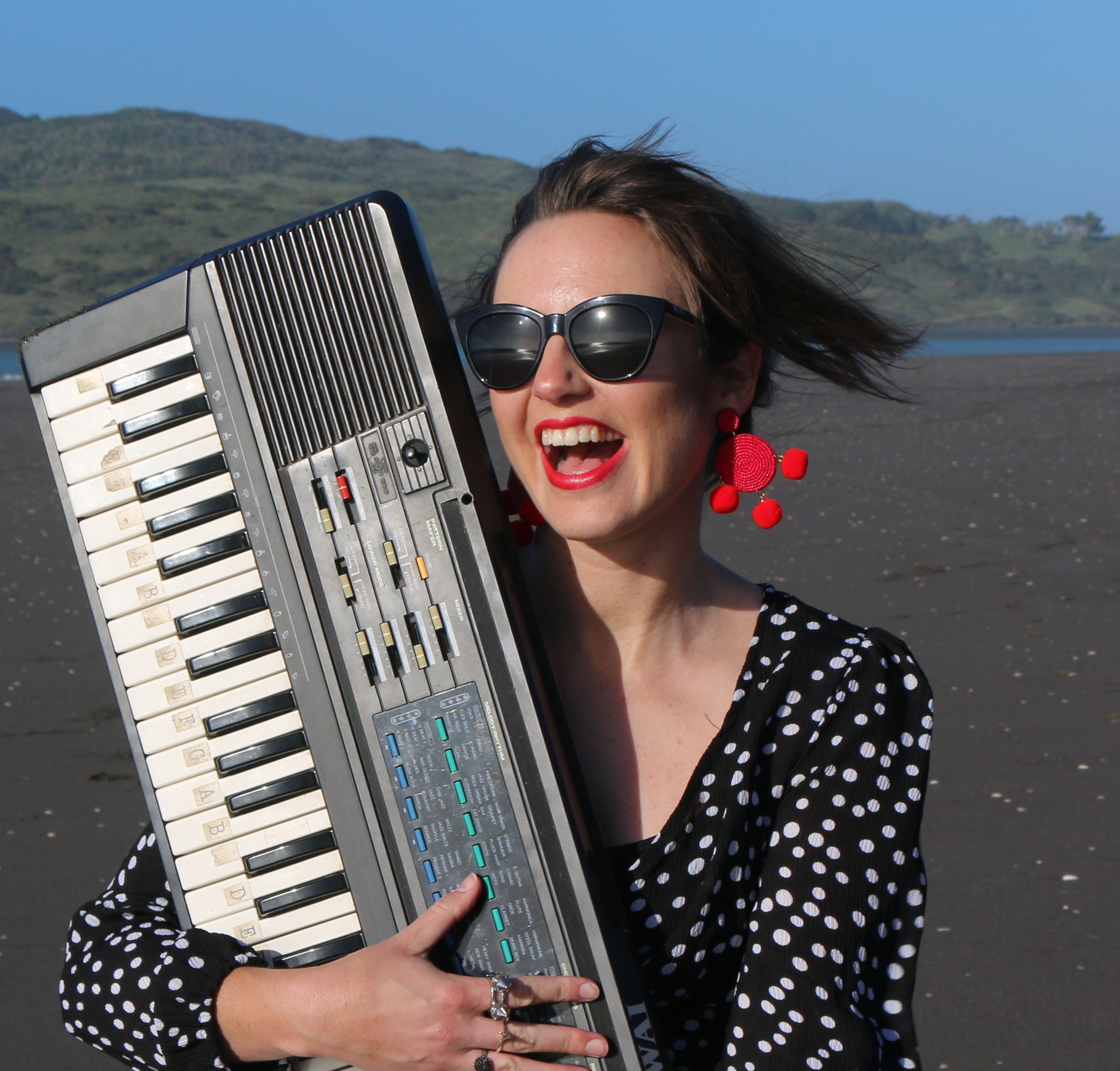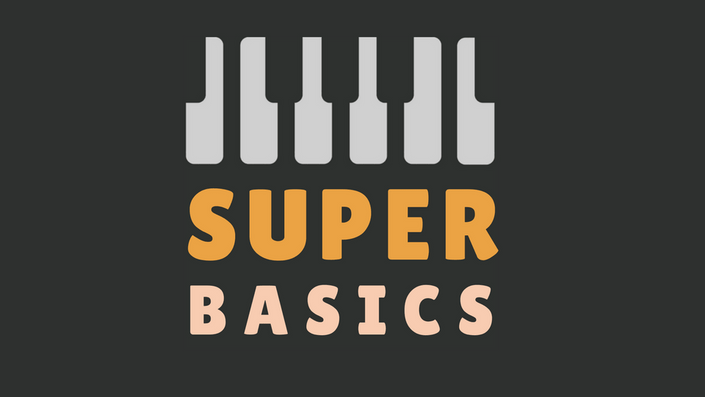 The Super Basics
Want to learn to play piano? Our fast, easy, online tutorials teach you the essentials to play piano, without the fuss. Start playing today!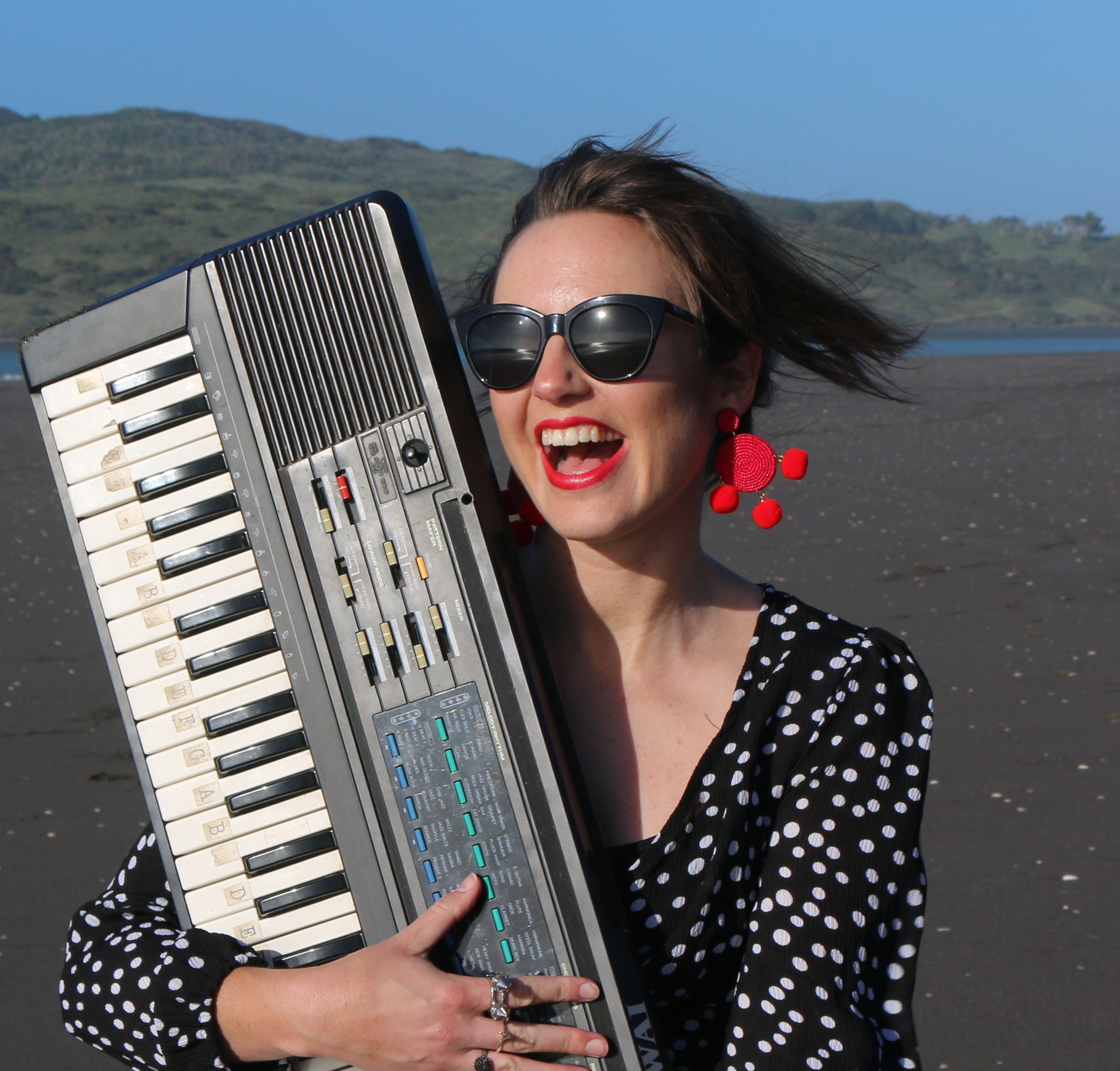 $47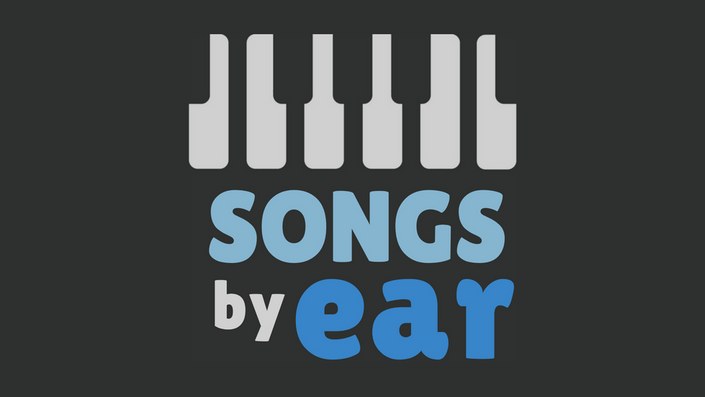 Songs By Ear
Play the songs you love on piano without reading sheet music!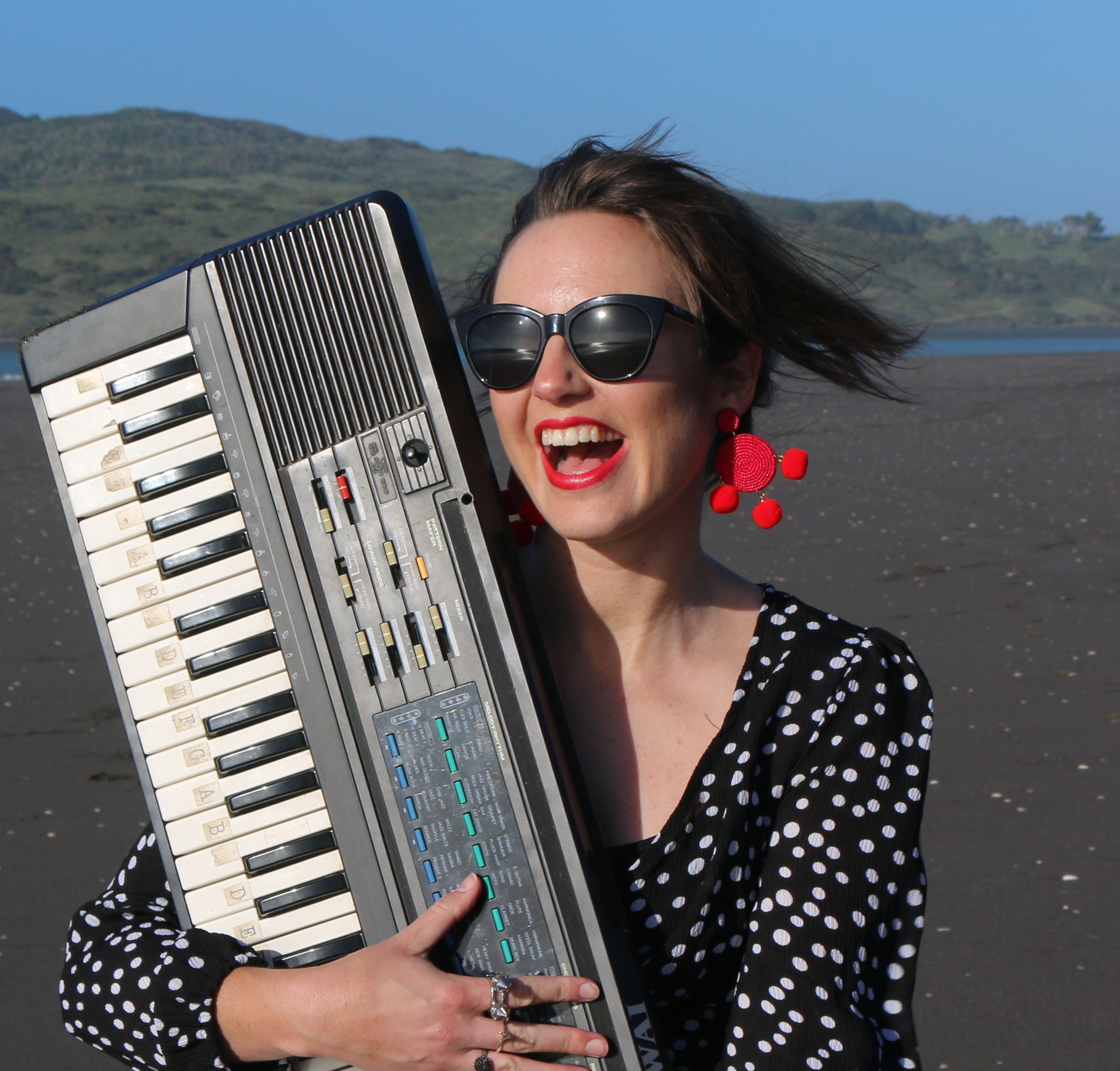 3 payments of $66/month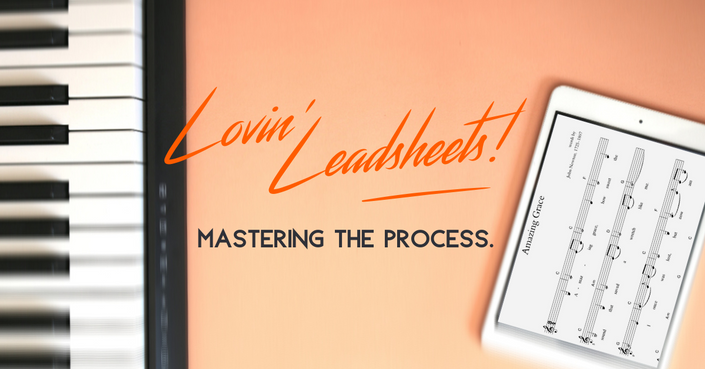 Lovin' Leadsheets! - Mastering the Process
Learn the skill of reading from a lead sheet to play piano songs quicker than ever!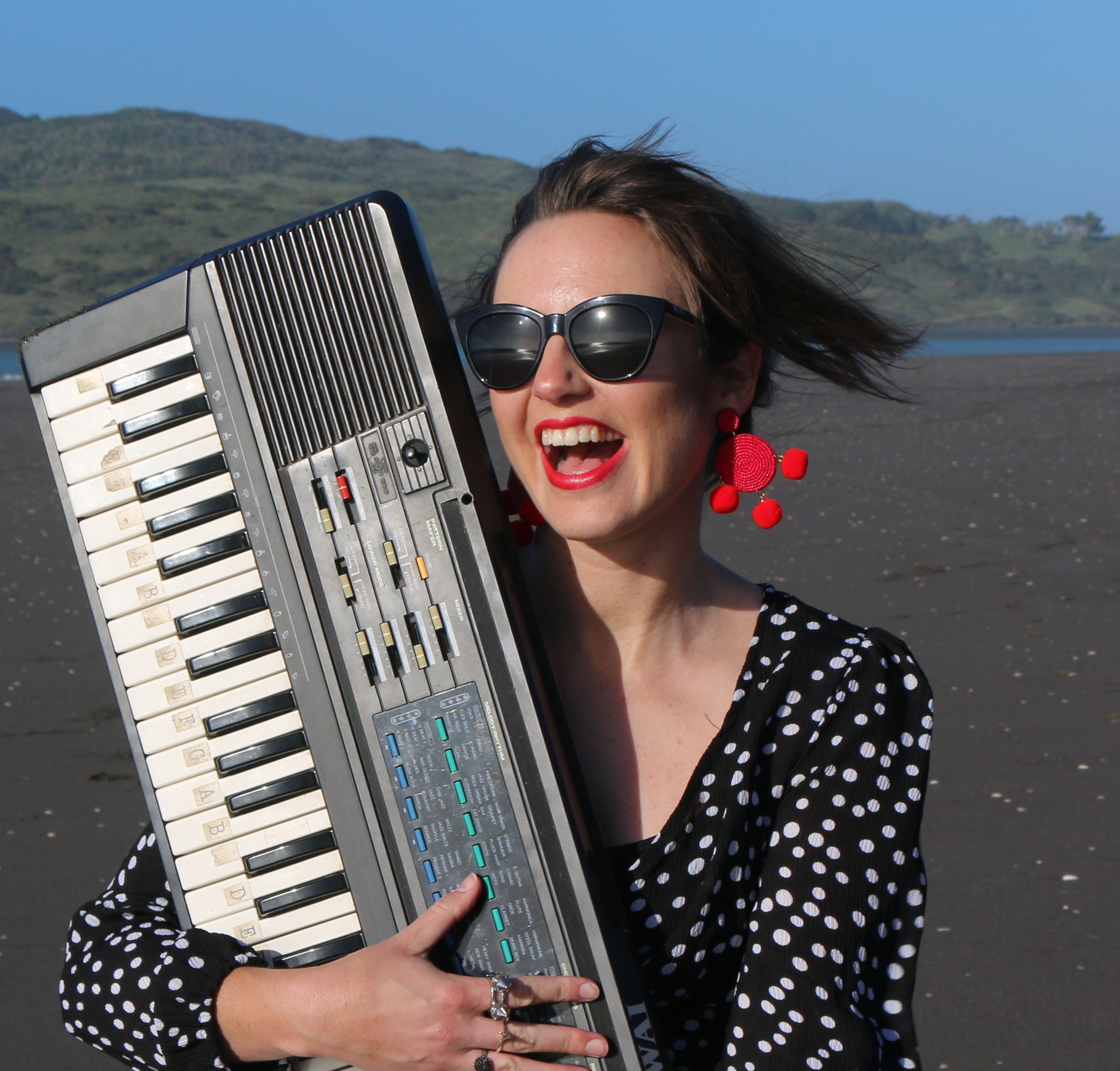 $139.99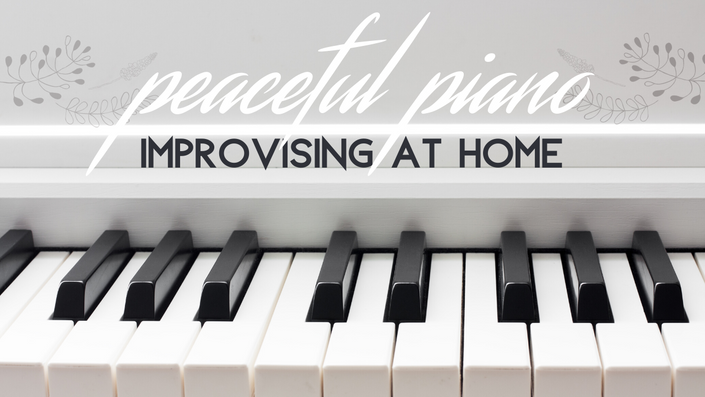 Peaceful Piano Improvising at Home
Unlock your ability to play freely, creatively and peacefully at home to relieve stress and tension.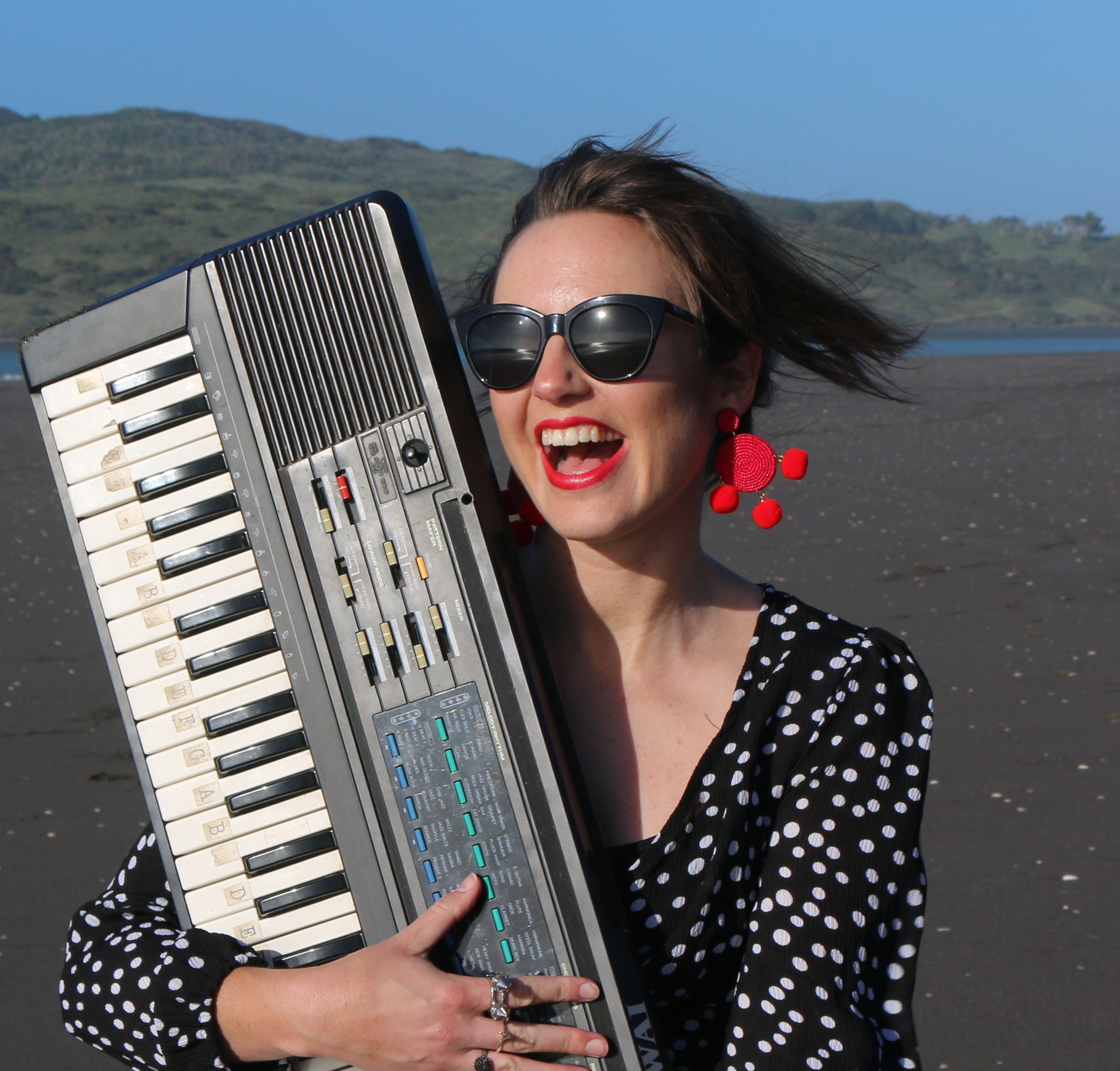 $47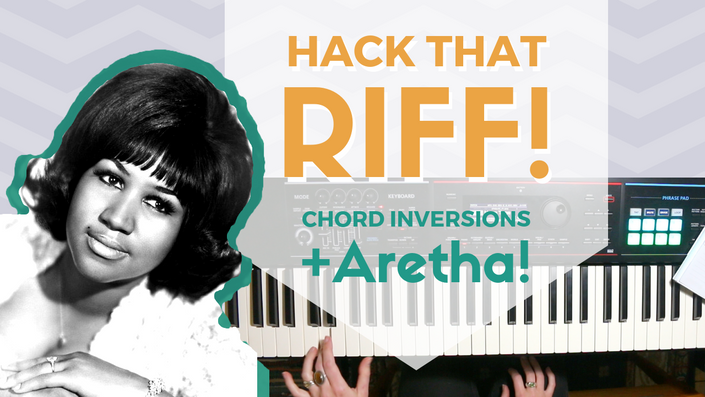 Learn Chord Inversions with Aretha
Confused about chord inversions? Learn how to play them easily in the context of a song tutorial!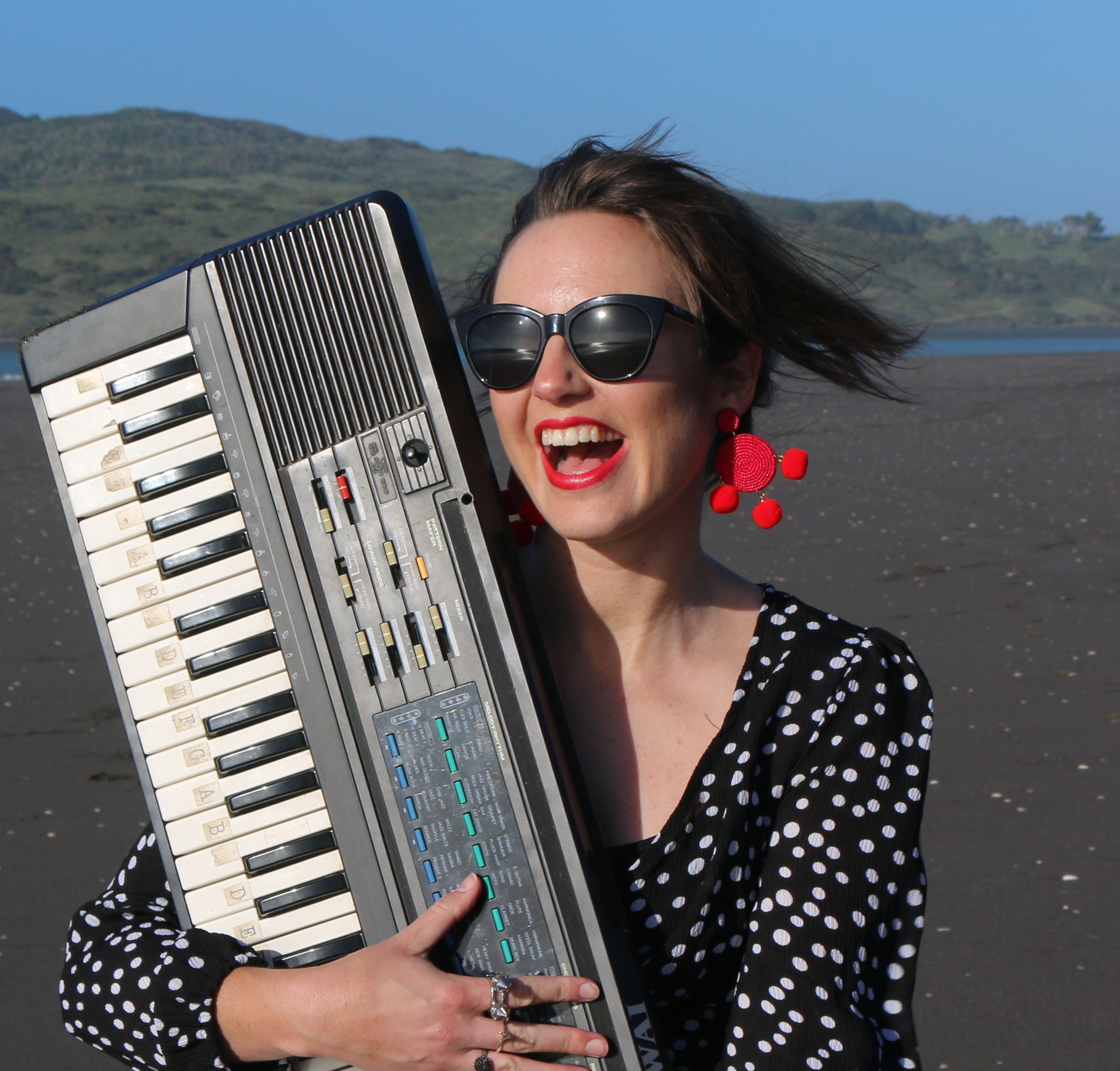 $12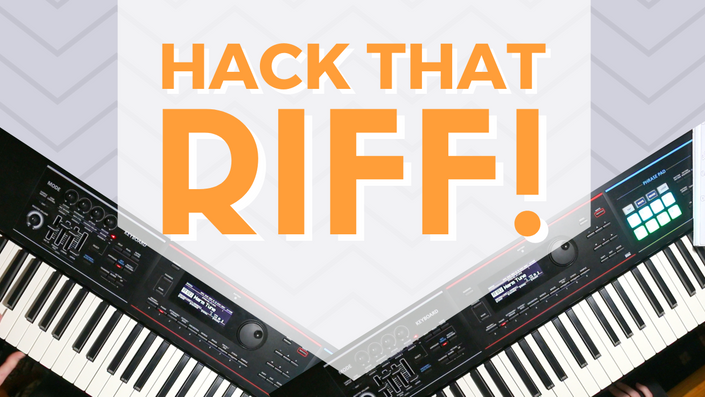 Hack That Riff
Learn the main riff of a song in just a few minutes!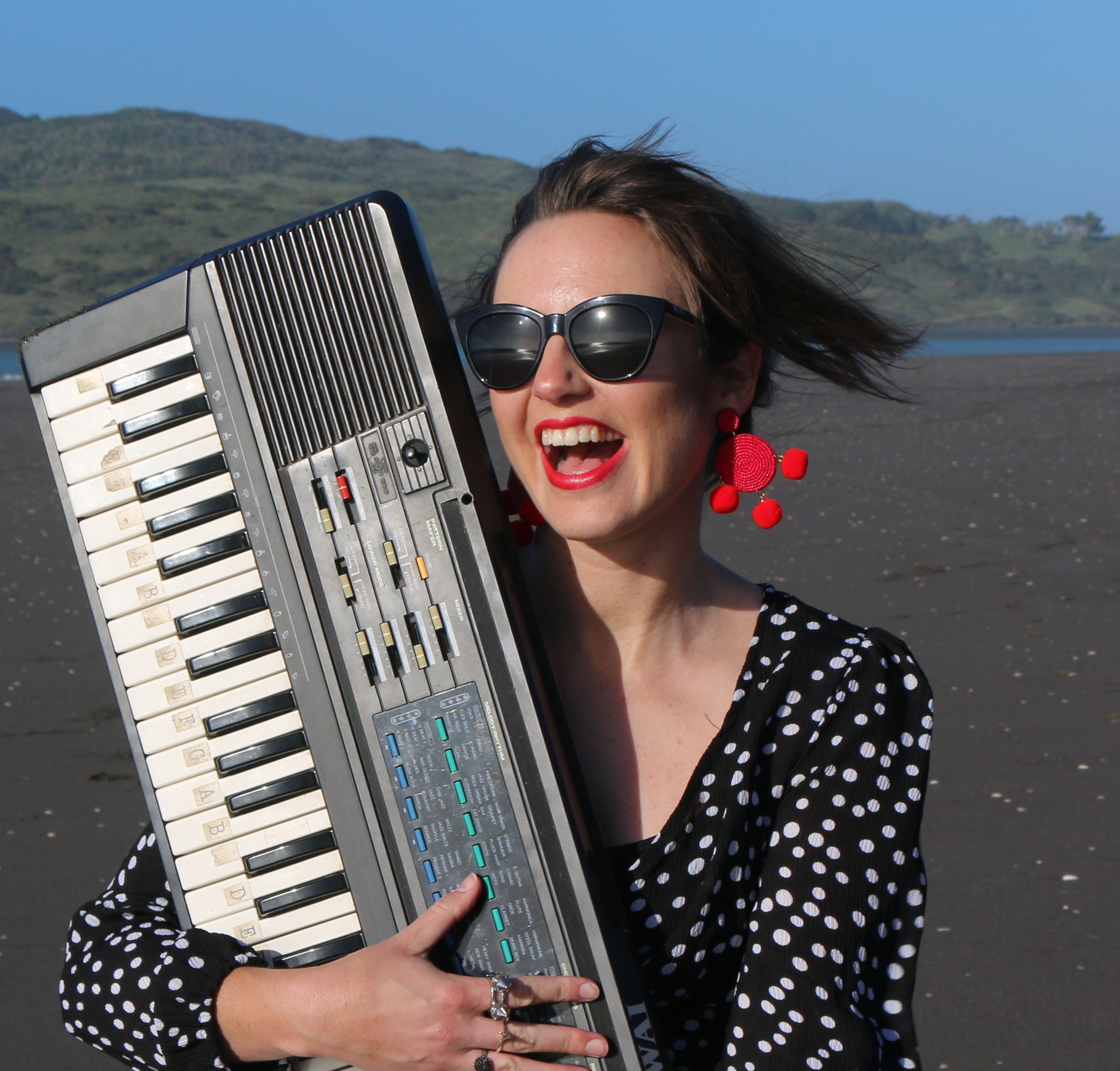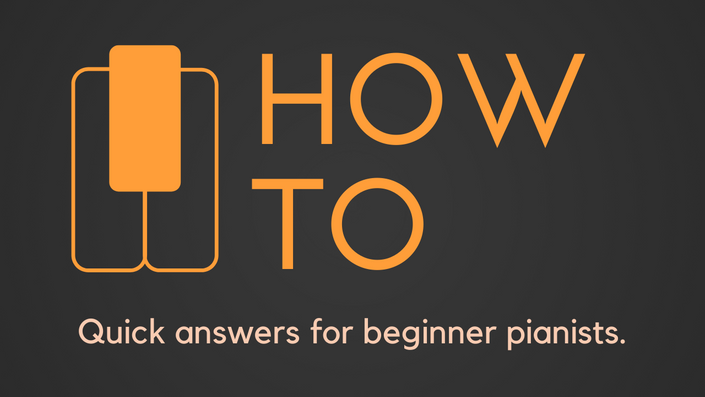 How To: Quick Solutions to Common Piano Problems
From how to buy a piano, how to move it, and how to set it up.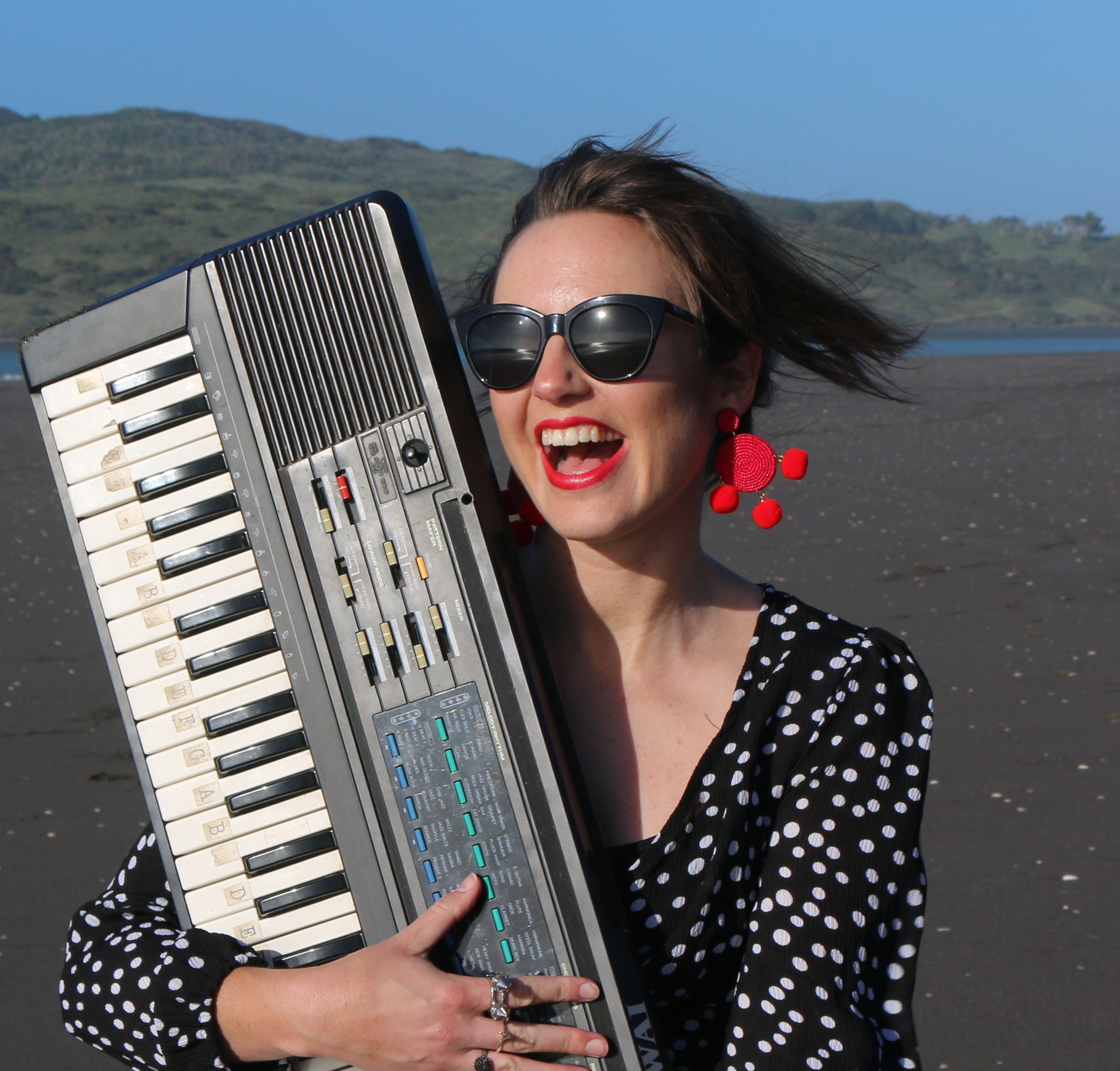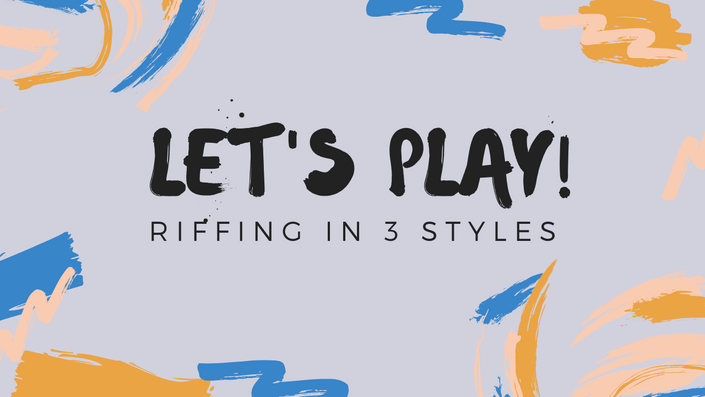 Let's Play! Riffing Basics in 3 Musical Styles
A mini-course to start building your riff library in pop, classical & jazz styles.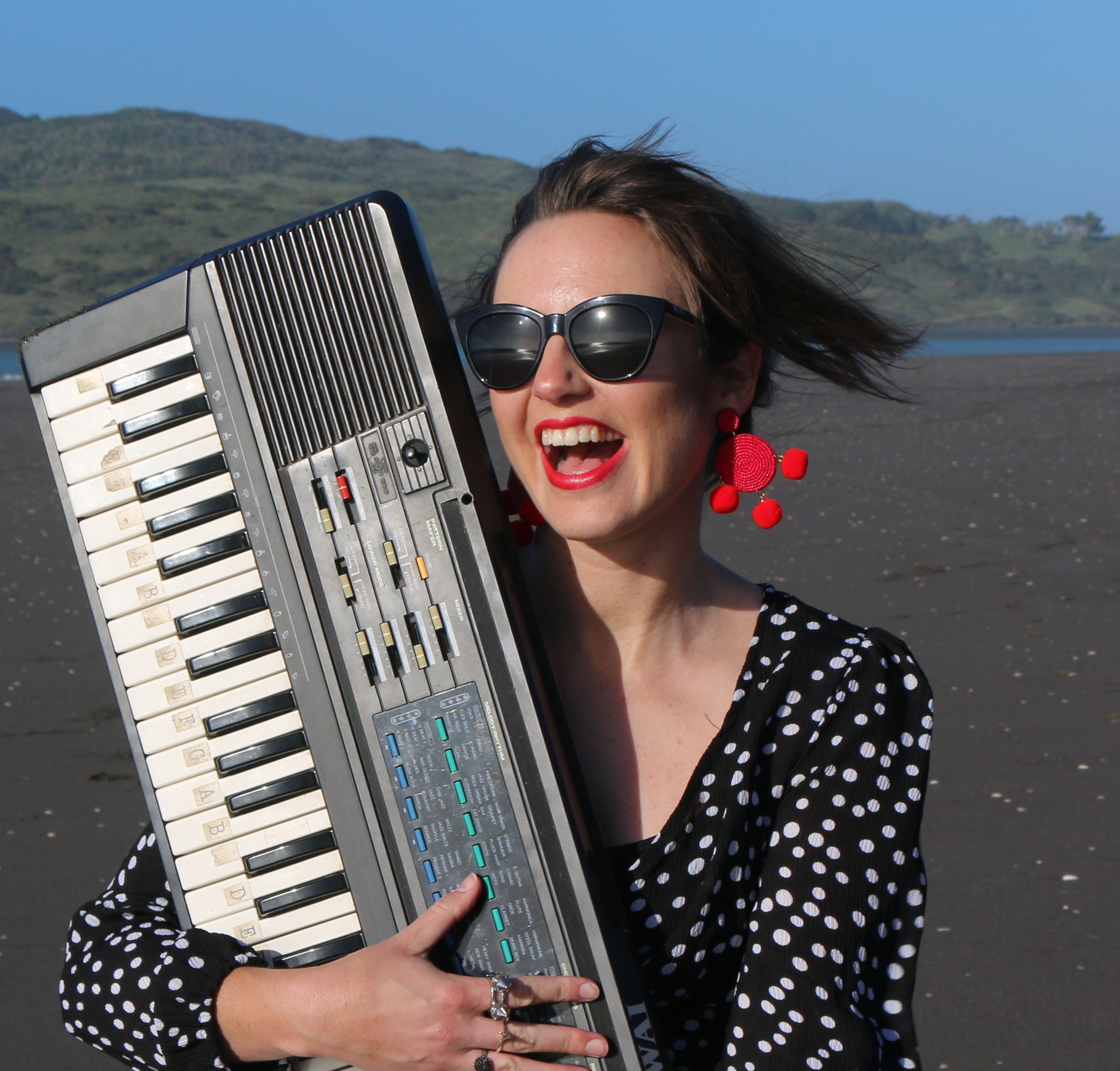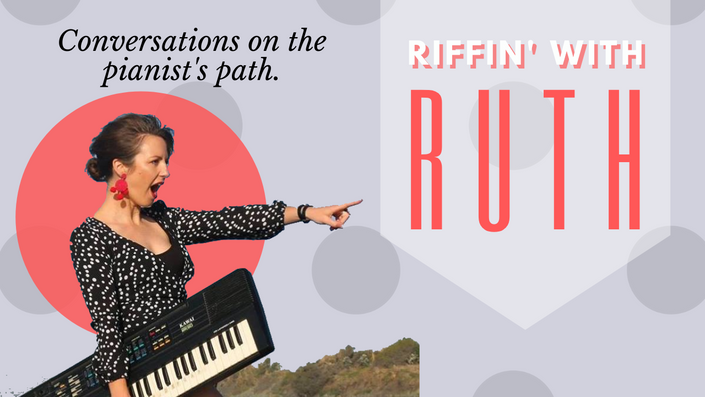 Riffin' With Ruth - conversations on the pianists path.
Ruth talks about the realities & obstacles of learning piano, offering advice and answers.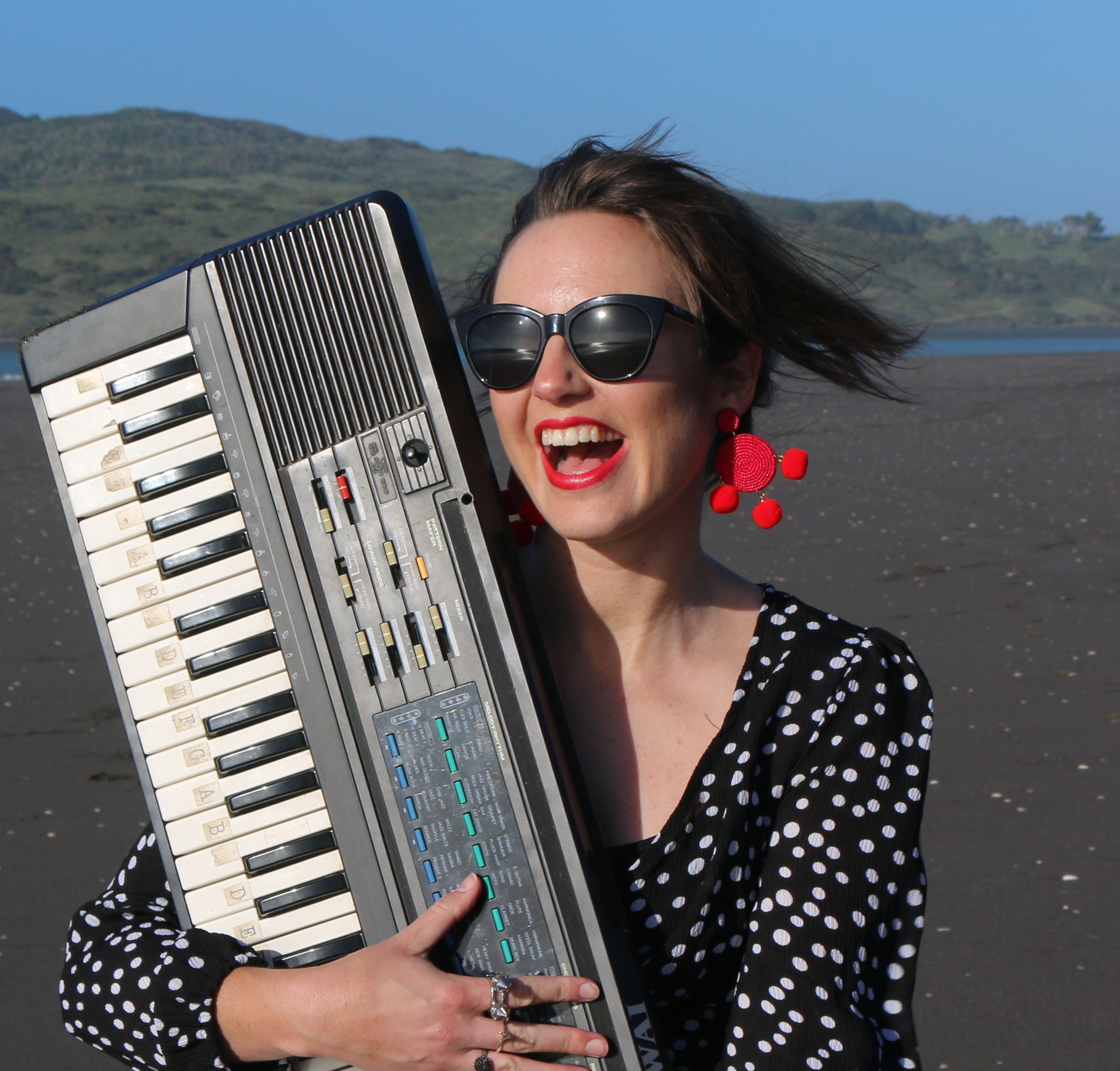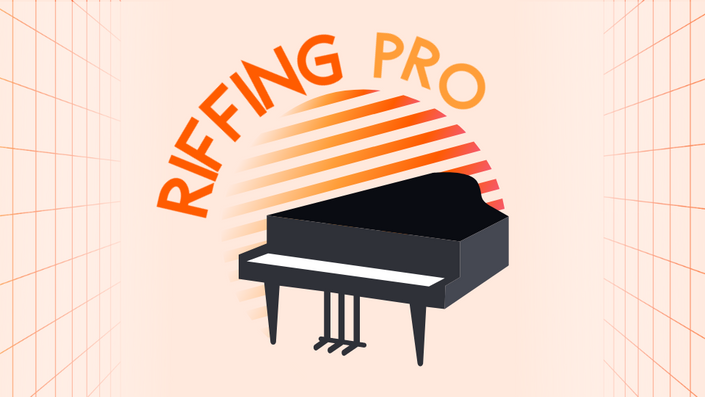 Riffing Pro – for Pianists
Learn to flow through piano music with rhythm & style.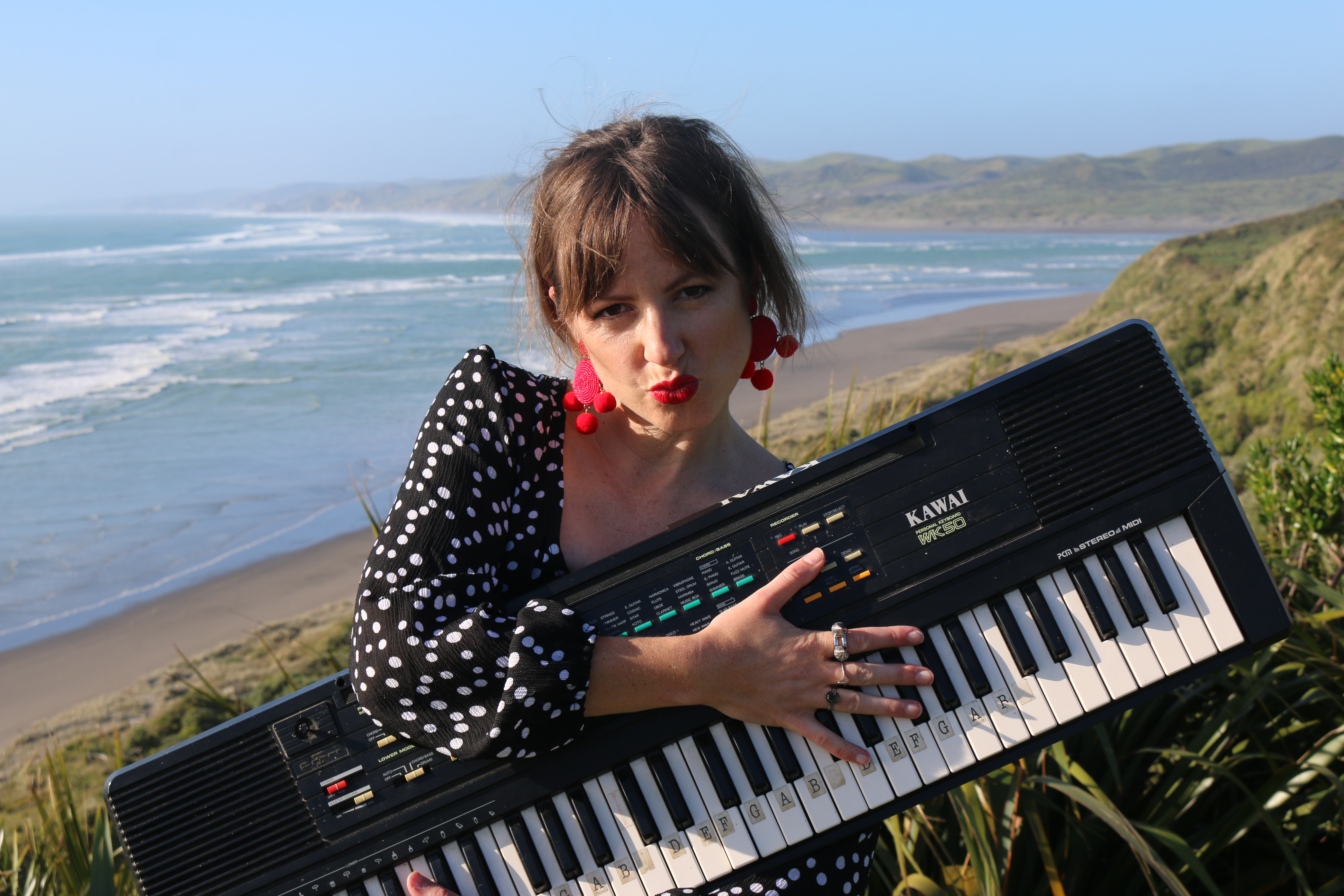 $97
Original Price: $408.99
Feedback from the students: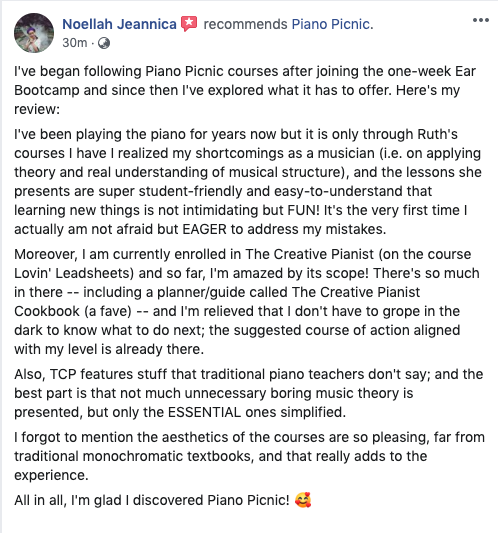 - Noellah Jeannica, Creative Pianist member.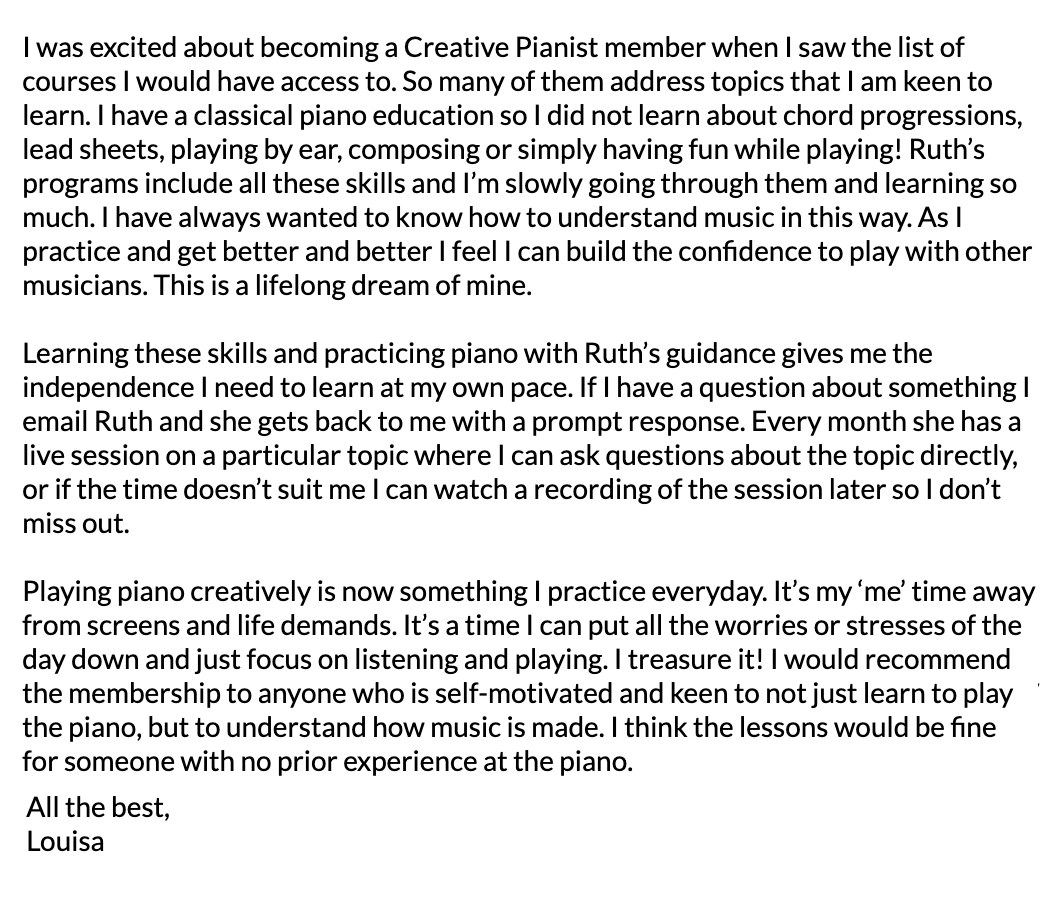 - Louisa Bufardeci, Creative Pianist member.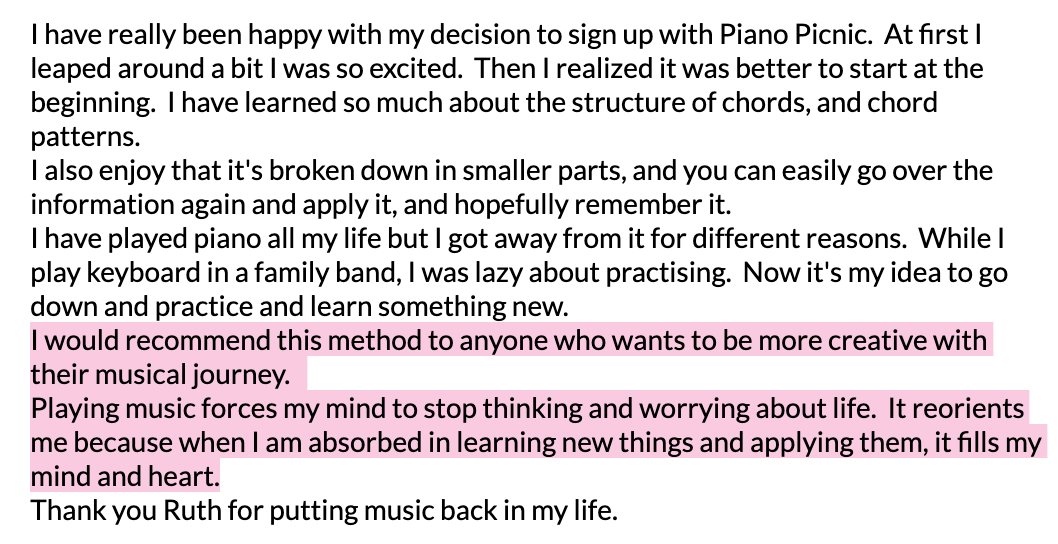 - Diane Amoroso, Creative Pianist member.


- Melanie Gunn, Creative Pianist member.
Frequently Asked Questions
How long is the membership for?
Each time your subscription payment goes through you're good for another whole month and so on until you know all the things one needs to know about piano. Or you can cancel at any time.
Who is this for?
The program is recommended for complete beginners through to experienced intermediate players. We will extend into advanced level training eventually. The skills of a creative pianist are less commonly taught so even an advanced traditional pianist who is used to reading sheet music is likely to find new skills to learn here.
What if I am unhappy with the membership?
If you do not find anything helpful to you within the members area, contact us within 7 days of your initial purchase and we will happily credit the value of your purchase toward your next enrolment. Subsequent payments are ineligible for exchanges or refunds. Please read the membership description carefully as refund requests are granted on a case-by-case basis and will not be granted for change of mind or failure to read the membership description. Read our policy (in 'Terms of Use') from the link at the bottom of this page.
How long will I have access?
You have access to anything and everything for as long as you stay in the membership. If you decide to cancel, then you'll still have access to any courses you bought life-time access to previously.
How much does it cost?
Just $27 per month! That's just $6.75 a week! For even better value, if you sign up for an annual membership, you'll get 2 months for free (saving $54!).
What happens if I do the trial and don't want to continue?
If you signed up to trial the first month, then you have 30 days to sample the goods. If you're not satisfied, you can cancel your membership before your payment goes out the day after your trial ends. You can cancel the membership easily from inside your account.
How do I cancel my subscription?
It's easy – simply login, click on your profile picture - click 'Manage Subscriptions', then click cancel on the subscription. Your access will be withdrawn at the end of the current billing cycle.
Your Instructor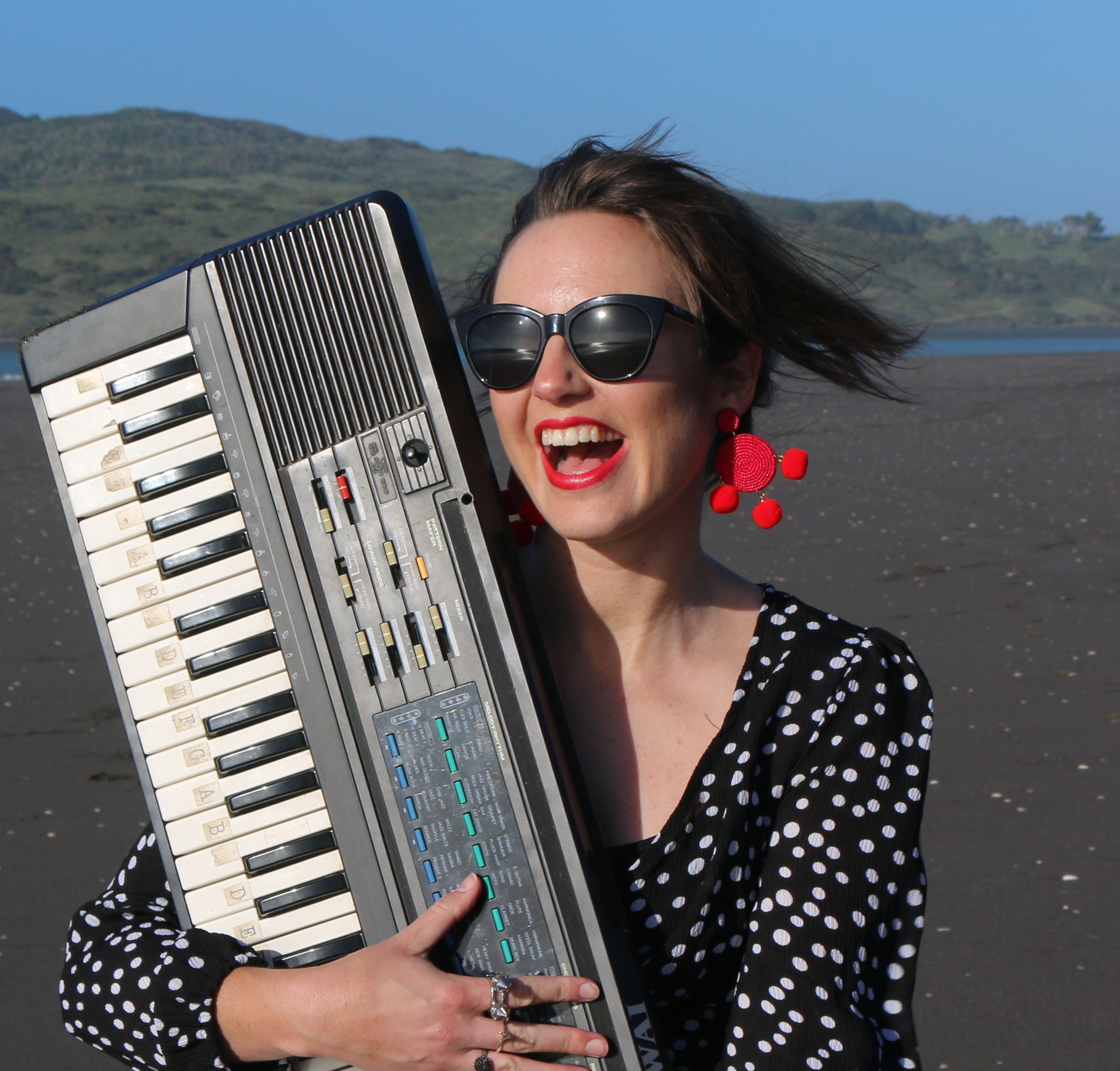 Kia ora! I'm a lifelong pianist and piano-music enthusiast from New Zealand! After my music degree, I cut my teeth as a developer and presenter of the highly successful Rocket Piano method (teaching 90,000 students worldwide), then spent 7 years as music editor for Europe's largest print music publisher.
While working in the industry I noticed a lack of accessible, easily-digestible piano resources online. So in 2016, after moving home for the sunny beaches of NZ, I began creating online courses with the primary goal of making the piano quick, simple & fun to learn: Piano Picnic was born!
---
Three years later and I've taught over a thousand students how to make progress on the piano without becoming bored with the whole thing! My specialty is coaching piano in a way that feels like a friend is at the piano with you, motivating you toward real progress!
Become a Creative Pianist TODAY!
CLICK 'JOIN THE MEMBERSHIP' NOW!